Tuesday, September 06, 2005
Five-star award for Scottish Crannog
_________________________________________________________________
Stonepages
September 04, 2005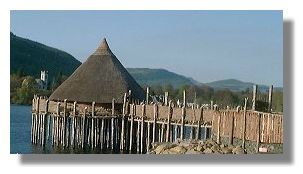 The Crannog Centre at Kenmore.
Scotland's unique cultural icon, the Crannog Centre at Kenmore (Perthshire), has been awarded the prestigious five-star grading from VisitScotland. The centre is the 55th visitor attraction in Scotland to receive the award out of more than 350 registered attractions.
The Crannog was built by the Scottish Trust for Underwater Archaeology, based directly on their excavations in Loch Tay and on 20 years of research. The development began as an archaeological experiment, but the team always intended to use the crannog as a living, educational resource. The authenticity of the site is underpinned by the continuing direction and research by the same archaeologists who built it which, together with a hands-on approach to the public, has proved to be a winning combination.
The centre's creators, archaeologists Dr Nicholas Dixon, research fellow at Edinburgh University and Barrie Andrian, managing director at the Crannog Centre, are delighted with the award. "This is a wonderful tribute to all our team who were particularly commended for their welcoming approach and their well-informed and enthusiastic presentations. We hope that this award will have a positive knock-on effect for the whole community, helping to make the wider Loch Tay and Aberfeldy area a five-star destination," said Mr Andrian.
Meanwhile, the underwater research on which the Crannog Centre is based continues apace. Following this summer's activities in Loch Tay and further afield, the team is looking forward to enhancing the exhibition with several new discoveries and an expanded events programme for next year.
____
www.dofundodomar.blogspot.com