Friday, November 25, 2005
Churchill funeral barge for sale
_________________________________________________________________
The Australian
November 23, 2005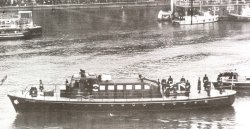 Havengore.THE
barge that bore the body of British World War II leader Winston Churchill down the River Thames during his state funeral 40 years ago will go on sale next month and is expected to make over one million pounds ($2.31 million).
The 26.5m Havengore entered the annals of history on January 30, 1965 when it carried Churchill's flag-draped coffin past dock cranes with their jibs lowered in mute tribute to the nation's hero.
"This is quite unique. It is a piece of Churchill history," said a spokesman for Sotheby's, which will auction the barge in London on Dec. 15.
Havengore, commissioned in 1954 and launched two years later, had a dual life as a working survey boat in the Thames estuary and a ceremonial transport craft carrying royalty and overseas visitors.
Decommissioned in 1995 and completely restored, the barge now works only on ceremonial occasions - most recently leading a flotilla of small ships down the Thames in tribute to naval hero Horatio Nelson in September.
____
www.dofundodomar.blogspot.com