Wednesday, December 28, 2005
Family feud leaves Cousteau's ship high and dry, his legacy all at sea
_________________________________________________________________
Times Online
By
Adam Sage
December 27, 2005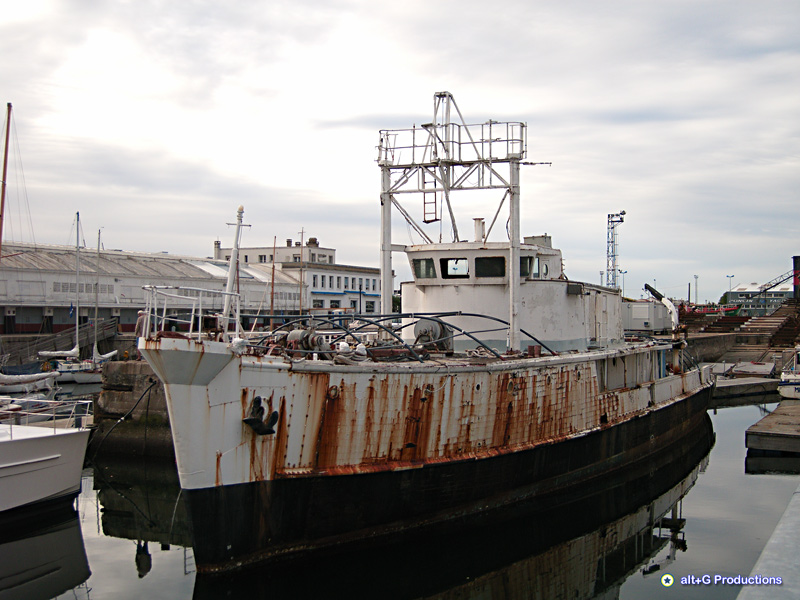 The Calypso.
A legal dispute is preventing the repairs necessary to make the explorer's floating world seaworthyTHE
vessel made famous by Jacques Cousteau, the late French underwater explorer, has decayed beyond repair during a bitter feud between his widow and son over its ownership, according to officials in the port where she is docked.
They say Cousteau's beloved vessel, the Calypso, is so decrepit that she would need to be rebuilt before going to sea again.
Authorities in La Rochelle on the French Atlantic coast, where the Calypso has languished since 1998, say that salvage plans have been blocked by the dispute between Cousteau's second wife, Francine, and his son from his first marriage, Jean-Michel.
Calypso, once known to millions of viewers across the world as a pioneering oceanographic research ship, is rusting and rotting as lawyers argue over her fate.
"According to experts, she can't even be repaired. She has to be rebuilt," said Marc Parnaudeau, the councillor in charge of the case at La Rochelle. He added: "We just want this legal wrangle to end as quickly as possible."
But a swift solution appeared unlikely last night as the family quarrel intensified. Mme Cousteau accused her stepson of "irresponsible stubborness" and of manipulating the media.
Both run rival associations which claim to perpetuate the work of the explorer, who died in 1997.
His wife heads L'Equipe Cousteau, and his son Les Campagnes Océanographiques Françaises (COF). Each claims to own the boat and has a different project in mind.
Mme Cousteau says she has signed a deal for the Calypso to be renovated in the Bahamas by the American cruise line, Carnival Corporation, at a cost of $1.3 million (£695,000) and turned into a scientific education centre.
M Cousteau wants to keep the vessel in France, where he has asked naval architects to draw up plans for restoration. "This is an historic vessel that ought to have been classified as part of the French national heritage a long time ago," he said.
Neither wife nor son can pursue their plans until the court case is settled.
The Calypso is a former Royal Navy minesweeper which was bought by the Guinness brewing dynasty after the Second World War and leased to Cousteau for a nominal one franc a year.
Wearing his trademark red woolly hat, he used the boat to film some of the most celebrated underwater documentaries ever made, such as Le Monde du Silence (The Silent World) which won first prize at the Cannes Film festival in 1955.
But the Calypso was damaged in Singapore harbour in 1996, a year before Cousteau's death at the age of 87. She was brought back to La Rochelle and has not sailed since.
In November a Paris tribunal approved Mme Cousteau's ownership claim on the grounds that Leon Guinness, the Anglo-Irish multimillionaire, had sold the ship to her association for €1.
But the COF has appealed against the judgment, arguing that a 1974 customs document makes it the proprietor.
Mme Cousteau's association responded: "This shows the COF is ready to do anything to prevent the ship being salvaged and to paralyse the work of L'Equipe Cousteau."
French commentators say that personal jealousies are fuelling the row. Cousteau's first wife, Simone, who shared the Calypso with him, died in 1990, apparently unaware that he had had two children with Francine, an air hostess he had met on Concorde.
Six months later, when Cousteau married Francine, who was 40 years his junior, his son reacted angrily. M Cousteau's hostility towards his step- mother increased when she claimed to represent her late husband's memory.
____
www.dofundodomar.blogspot.com