Thursday, July 20, 2006
Viewers get a live peek at Monitor wreckage
_________________________________________________________________

By Laura Girresch
July 20, 2006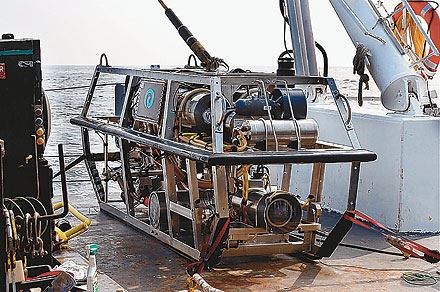 This remote-controlled submersible is one of two that are shooting images of the
USS Monitor wreckage to create a huge photomosaic.
NORFOLK -
The public watched researchers explore the underwater wreck of the USS Monitor on Wednesday.
An expedition to the site of the wreck of the Civil War ironclad off North Carolina's Cape Hatteras was broadcast live from a University of Rhode Island research vessel, Endeavor. It could be seen on the Internet, at www.oceanslive.org, and at the theater inside Nauticus.
Just months after its historic battle with the Confederate ironclad CSS Virginia in Hampton Roads, the Monitor sank in 1862 in a storm off Hatteras, with the loss of 16 lives. The wreck was discovered in the 1970s. It's a marine sanctuary now, and recovery work is ongoing.
This expedition's goal is to shoot thousands of images with cameras on remotely operated vehicles and then assemble them into a photo mosaic of the site.
Brent Rudmann, a NOAA at Nauticus educator who is overseeing the broadcast at the Norfolk attraction, said the mosaic involves " taking a lot of pictures, then putting them together like a puzzle, so that they have one big, really high-quality photograph of the wreck."
But the expedition had other research to carry out, too - checking the condition of the wreckage and the marine life surrounding it.
"There have been concerns over the past four years that it's not as stable as it used to be," Rudmann said.
He said the iron and wood are slowly degrading.
The warship's revolving turret was brought to the surface in 2002 and is being preserved at the Mariner's Museum in Newport News.
The audience watched live feeds as the remotely operated vehicles - the same craft used to explore the Titanic's wreckage - did the work.
Viewers of the broadcast heard taped and live interviews with technicians, scientists and crew members, then listened to questions sent via e-mail.
Paul Clancy, a former reporter for The Virginian-Pilot and author of "Ironclad," had a different perspective.
He has been underwater to see the wreck before.
"With the live footage of these guys down there, it was like doing it all over again," he said.
Clayton Hogge, 12, came with a Middlesex Family YMCA camp.
He loves shipwrecks and said it was "awesome when they went right through the hole of the captain's quarters."
But his favorite shipwreck still is the Titanic.
"I've researched it for a long, long time - since second grade," the fifth-grader said.
____
www.dofundodomar.blogspot.com